Scolari  (PT)
December 2021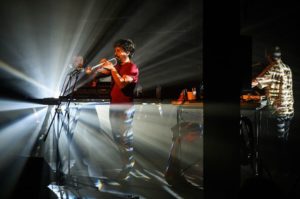 Their music is a floating conversation between the electronics of Silva and Pereira and Vicente's trumpet; it is an open journey to a new music language creation based on the exploration of mutually shared binoms : noice / silence, abstract / specific a melodic / dissonant.
Scolari led by the legendary  Luís Vicente recorded new compositions together with Annabelle Plum (voice) and Kimei Matvija (shakuhachi).  The formation presented their music in a concert at Prague club Punctum.
Naoko Kikuchi (Japan)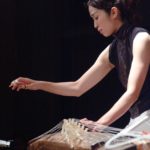 November 2021
The world virtuoso on Japanese koto graduated from NHK School of Performing Traditional Japanese Instruments where she obtained her master's license. She currently lives and works in Berlin where she uses her extraordinary talent in a wide spectrum of activities ranging from premiering new compositions, collaborating with other artists and musicians to perform traditional music for koto.
During her residency program in Prague Naoko led a koto workshop and performed with the worldwide known shakuhachi player Jeanem Françoisem Lagrostem, Monika Knoblochova (cembalo) and Marek Kimei Matvija (shakuhachi) during a concert of music by Japanese composers Torua Takemitsua, Makiho Ishiiho, Tadao Sawaie, Yukiko Watanabe and Ichiro Seki.
Steve Cohn (USA)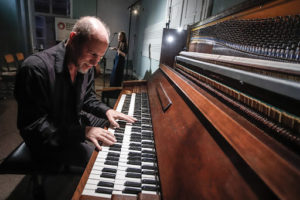 October 2021
NYC pianist, shakuhachi player, jazzman and improvisor, whose music dramatically evolved over the years.
During his second residency at Neiro, Steve performed together with Annabelle Plum (voice) and Kimei Matvija (shakuhachi) at Free Jazz Festival. The trio and a special guest George Cremaschi (double bass) presented and recorded new compositions within their concert at The Music Academy of Prague where Steve also lectured an Improvised music and extended techniques workshop.
John Kaizan Neptune (USA)
September 2021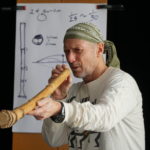 A legendary shakuhachi player and producer, who reinterpreted the shakuhachi and adapted it for Western music and jazz. Neptune, who is acknowledged to be among the top masters of the instrument in Japan, now lives in Kamogawa, Chiba-ken, where he continues to make, compose for and experiment with the instrument he had adopted as his own.
During his residency, John lectured a shakuhachi playing and a shakuhachi making workshop, where he introduced his unique playing and production techniques.  He performed at ISFP 21 festival with the infamous Berg Orchestra and Stratocluster. He also performed as a guest at Japonske dny festival in Ostrava and at the Kozel castle together with  the Czech shakuhachi master Marek Kimei Matvija.
Viktor Szeri, Tamás Páll, Gyula Muskovics
November/December 2019
Choreographer Viktor Szeri, multimedia artist Tamás Páll, and curator Gyula Muskovics have all combined to create immersive installations and performances since 2018. Their trans-disciplinary art projects connect contemporary dance with new technologies, poetry and curatorial vision.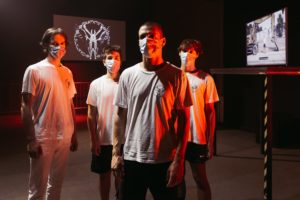 The collective is preoccupied with the changing role of the human body and the notion of real experience on the verge of the virtual and the physical reality.
They dedicated their residency to their multimedia performance SUMMIT speculating about dark future scenarios. The latest project by Gyula Muskovics, Viktor Szeri, and Tamás Páll is a collective mourning ritual, a preparation for an unexpected, yet already evident Future Event. The decentralized environment of SUMMIT is based on the combination of new technolgies, dance, and poetry. During the performance the visitors are immersed in the dialogue between the physical present and a virtually existing, yet possible reality.
Jasmin Schaitl
November 2019
Jasmin Schaitl is currently living in Vienna, AT and Wroclaw, PL. She recently started her practice-based PhD at the Academy of Arts and Design, Wroclaw. The main medium of expression in her work is the body in performance, sculpture, drawing and video. She graduated from the University of Applied Arts, Vienna. Since 2011, she has worked as a visual artist and performer; she also organizes and curates interdisciplinary projects. Jasmin shares her approaches to performance also through leading workshops in universities, institutions and performance festivals all over Europe.
Within the field of performance and sculpture, she is researching the connection of, and effect between the haptic sense and the memory. This includes audience involvement, participation and objects/materials that are to be touched. Jasmin examines how durational pieces and intimate one-on-one performance and installation settings affect and change the perception of time and space for an audience.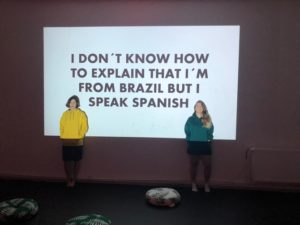 Rayo Tropical
November 2019
Natasha Padilha and Anna Júlia Amaral (Brazil) are more than 10 years working in performance arts field.
Performance "I Don't Know How To Explain That You Should Care About The Others" is their current research around identity, migration, affection and failed politics.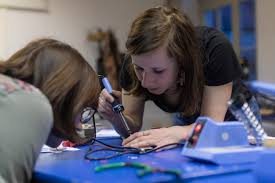 Staša Guček
October 2019
Staša Guček is creating connections between various fields of art, technology and sound. She is interested in illustration, analog electronics, bioacoustics, field recordings and grows affinity and care for the world of insects and fragile ecosystems. She is developing custom stand-alone analog electronic instruments and mentoring workshops.
A workshop and a lecture "Nocturnal Animals" took place in NEIRO during Staša's residence. Under the leadership of the artist, the workshop participants made a musical instrument that tells the story of nightlife, climate change and blind musicians. The workshop was followed by a lecture about her "Nocturnal Animals" project and Staša Guček's creative process.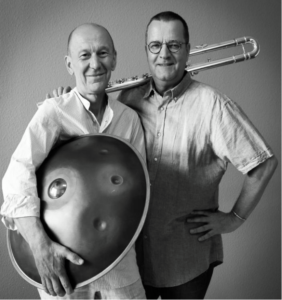 Dietmar Ippu Herriger & Tivadar Nemesi
July 2017

Dietmar Ippu Herriger (shakuhachi, alt-saxofon, bass flute and bass clarinet) dedicated his life to the studies of wind instruments in Europe and Japan. He is currently teaching flute, saxophone, clarinet, and shakuhachi play at Leo Kestenberg Music School in Berlin.
Tivadar Nemesi is a percussionist, based in Budapest and Berlin. He plays the legendary Swiss percussion instrument Hang Drum. Tivadar studied photography at Budapest Academy and is an author of many musical and art projects. He also creates film music.
They dedicated their residency to their mutual project MA: In between, Today. The outcome was a concert in an artistic club Zázemí in Bartolomějská street, Prague.
Steve Cohn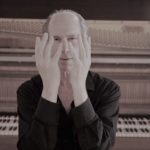 June – July 2016
Multi-instrumentalist and a jazz experimentator Steve Cohn, together with Marek Kimei Matvija and Annabelle Plum, recorded and presented new compositions for shakuhachi, experimental voice and quarter-tone piano.