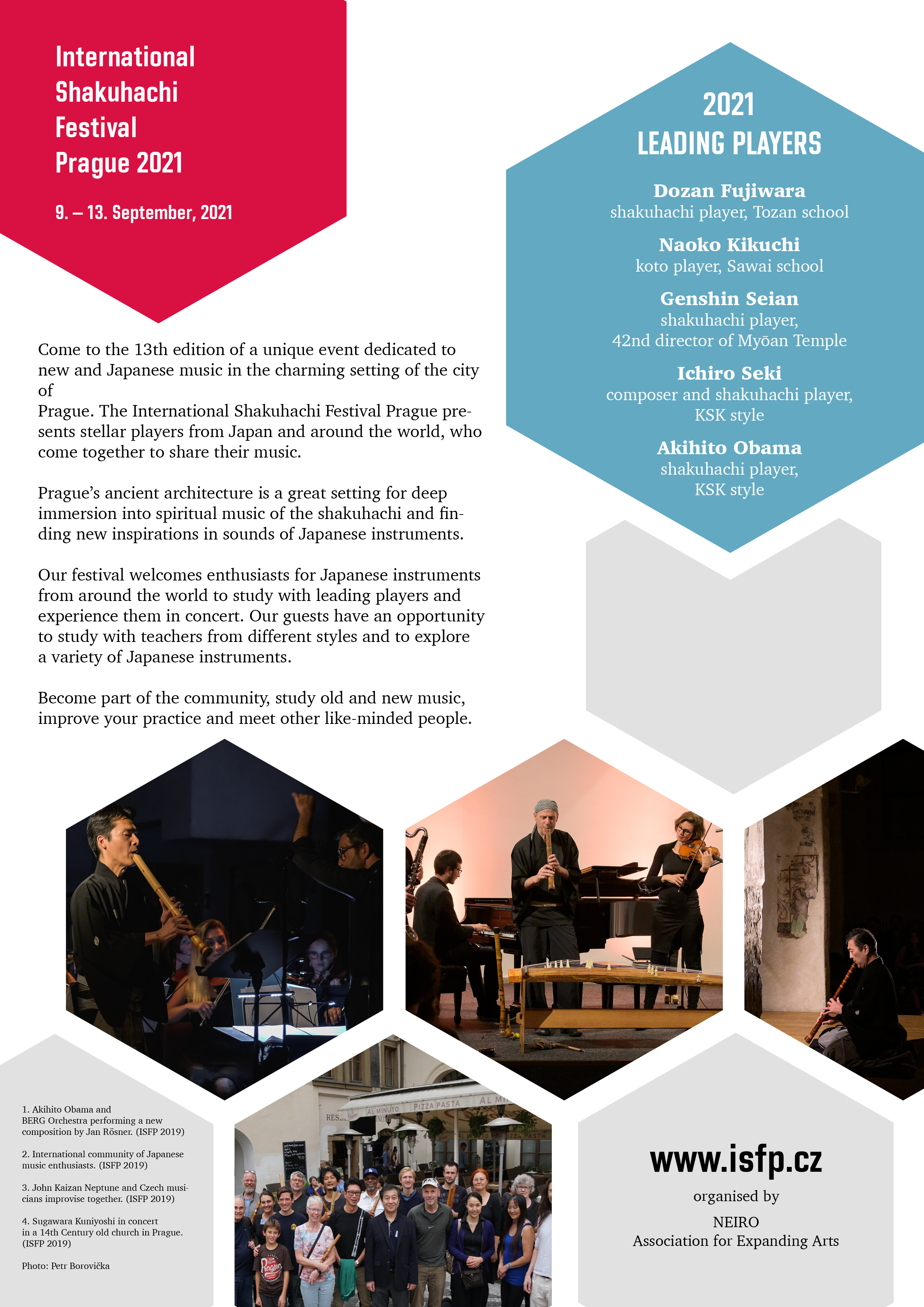 International festival dedicated to japanese shakuhachi flute. An instrument that inspires composers and audiences all around the world, represents the symbiosis of the ancient and the modern.
Every year, the festival orders new compositions for prestigious Czech artists and companies. It represents the highest quality of traditional music as well as new musical directions. Its aim is to become an artistic and educational platform for artists, musicians, and music students.
In 2016, International Shakuhachi Festival Prague celebrated its 10th anniversary.
PROGRAM:
1. 9. 2021
Online Concert
September 6, 2021 – September 8, 2021
3 day Shakuhachi Intensive with John Kaizan Neptune 
Studio Neiro, The Netherlands 48
9. 9. – 10. 9. 2021
SYMPOSIUM MEETING OF WORLDS: TRADITIONAL INSTRUMENTS AND THEIR ROLE IN CONTEMPORARY COMPOSITION 
Venue: HAMU
9. 9. 2021
John Kaizan Neptune Live & Screened 
Screening of Worlds Can't Go There film and concert of JKN with Stratocluster (CZ)
Venue: Bio Oko
10. 9. 2021
Venue: PUNCTUM Krásovka
Sep 13, 2021
World premiere: Klusák & Vásová, Vtípilová
John Kaizan Neptune & Orchestra BERG
Venue: Savarin riding school / entrance through Jindrisská 5
14 – 16 September 2021
Shakuhachi Making Workshop with John Kaizan Neptune No. 2 
Venue: Studio NEIRO
Sep 17, 2021
ISFP recommends: John Kaizan Neptune in Ostrava 
18. 9. 21
ISFP recommends: John Kaizan Neptune and Marek Kimei Matvija at Kozel Castle, Plzen 
25. 9. 2021
ISFP recommends: Quarter to Three at Free Festival 
Steve Cohn (shakuhachi, piano), Annabelle Plum (hlas), Marek Kimei Matvija (shakuhachi)
Venue: Klub Kastan
26. 11. 2021
Concert SCOLARIO TRIO (PT) feat MAREK KIMEI MATVIJA & ANNABELLE PLUM 
Punctum Krásovka
27 .9. 2021
Quarter to Three with quarter-tone piano 
(HAMU, 2026)
Steve Cohn, (shakuhachi, quarter-tone piano), Annabelle Plum (voice), Marek Kimei Matvija (shakuhachi), George Cremaschi (double bass)
1. 10. 2021
Online concert No. 2 
15. 10. 2021
Improvised Music and extended techniques workshop 
Steve Cohn
Venue: HAMU
28 – 31. 10. 2021
Koto workshop and individual lessons with Naoko Kikuchi 
Venue: Studio NEIRO
28 – 31. 10. 2021
Shakuhachi workshop with Jean-Francois Suizan Lagrost 
Venue: Studio NEIRO
30. 10. 2021
Japan Unlimited: Naoko Kikuchi, Suizan Lagrost, Monika Knoblochová, Kimei Matvija
World premiere: Jan Rosner
Venue: ARCHA Theater
2. 11. 2021
Online concert No. 3
Nov 26, 2021
Concert SCOLARI (PT) feat. MAREK KIMEI MATVIJA & ANNABELLE PLUM
Venue: PUNCTUM Krásovka
1.12 Online concert No. 4
10 – 12. 12. 2021
Shakuhachi workshop with Hélene Seiyu Codjo & Dietmar Ippu Herriger 
Venue: Studio Neiro
12. 12. 2021
Concert Duo Satsuzen, Dietmar Ippu Herriger, Vlastislav Matousek 
Venue: Atrium in Zizkov