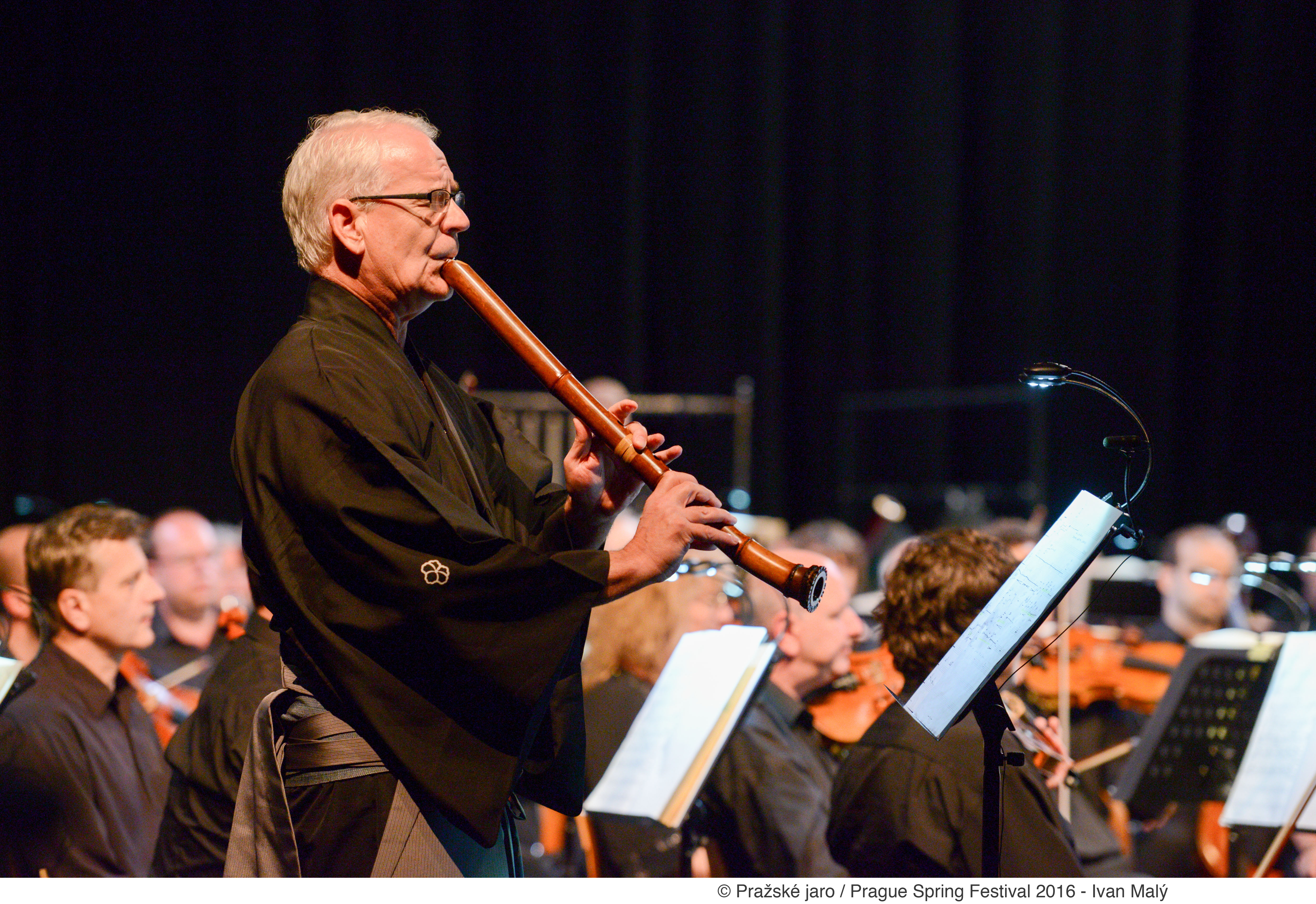 International Shakuhachi Festival Prague vol. 10 took place between 2. – 6. 6. 2016. Venues such as HAMU, The New Stage ND, Palác Kinských, Kino 64 U Hradeb, Ponrepo and Zázemí hosted international shakuhachi stars.
The main event of the festival was a concert of the exceptional BERG orchestra. Another highlight was a concert of Toru Takemitsu's November Steps and other 20th Century symphony music for Japanese instruments and the Czech Radio Symphony Orchestra. The festival presented two world premieres of compositions by Czech composer Vlastislav Matoušek – Rozpočítadlo and Kánon pro orchestr a shakuhachi.
5 days
40 guest performers from 11 Countries
1 symphony orchestra
29 events
9 masterclasses
12 workshops
1 symposium
7 venues
100 workshop and masterclass participants
2500 visitors
Reviews:
Hospodářské noviny:
http://archiv.ihned.cz/c1-65317290-international-shakuhachi-festival-berg-socr
Opera Plus:
http://operaplus.cz/myslete-na-nemysleni-symfonicky-orchestr-a-japonske-nastroje/
Zápisník zmizelého:
http://zapisnikzmizeleho.cz/orchestr-berg-mix-zapadu-vychodu-a-sakuhaci/
Český rozhlas:
http://prehravac.rozhlas.cz/audio/3644394
Start 37:00
ISFP 2016 was organized by NEIRO Association for Expanding Arts with the support of 108 Hz, HAMU, National Gallery Prague, Prague Spring, Orchestr BERG, National Theatre, Czech-Japanese Association, OSA, Municipality of Prague, Státní fond kultury ČR, hotel AXA, Institut intermedií, exprestisk.info, Agosto Foundation, Radio Wave, Ministry of culture, Classic radio, Radio 1, GOOUT, His voice, Ben Car, Maitrea, Japanese Foundation, Playboye, Kino Ponrepo and Miyabi.