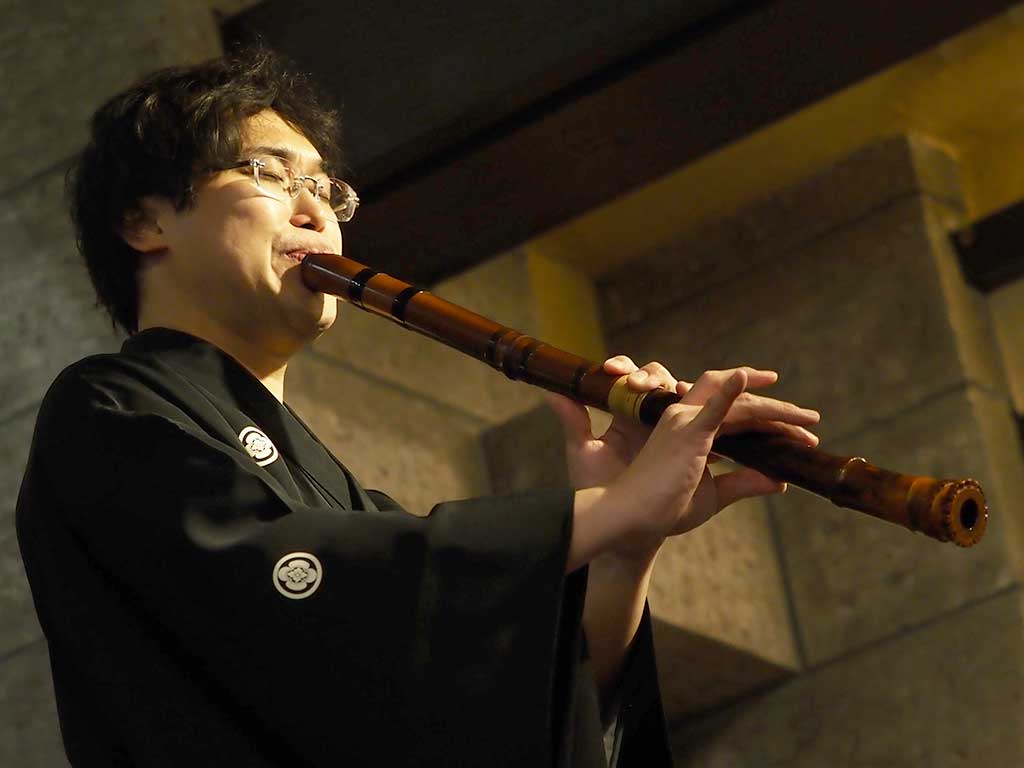 Reison Kuroda: Shakuhachi Workshop
Wednesday, November 23rd, 2022
NEIRO Studio, Holandska 1050/48, Prague 10

Take part in a shakuhachi workshop with a star shakuhachi player of the present day, Reison Kuroda.
Reison Kuroda comes from a lineage of living national treasure Aoki Reibo II. His traditional sound combined with stylistic brilliance and music intelligence have earned him wide critical acclaim in Japan and beyond. Kuroda has won a number of competitions in Japan and abroad including the World Shakuhachi Festival Competition in 2018. He is a member of the all star ensemble the Shakuhachi 5.
His one day workshop is dedicated to intermediate players*. It will focus on advanced tone production, special playing techniques used in Kinko ryu honkyoku. The pieces in focus will be Hifumi Hachigaeshi. Czech shakuhachi player Marek Kimei Matvija will also be available to you as assistant to the workshop.
The workshop is limited to five participants, please apply soon at info@neiro.org.
Outline of the workshop programme:
10:00 – 11:00 advanced tone production and exercises
11:00 – 12:00 Hifumi Hachigaeshi part 1
– Lunchbreak –
14:00 – 16:00 Hifumi Hachigaeshi part 2
16:00 – 18:00 Practice with assistance of Marek Kimei Matvija
Workshop pricing:
Regular price 3500 Kč (approx. 140 EUR)
Friends of ISFP members 2500 Kč (approx. 100 EUR)
On November 25th, Reison Kuroda will hold a concert in Monastery of St. Agnes, Prague. Tickets
* Intermediate players should be comfortable playing across the range of two octaves, otsu and kan, meri-kari, reasonably in tune.