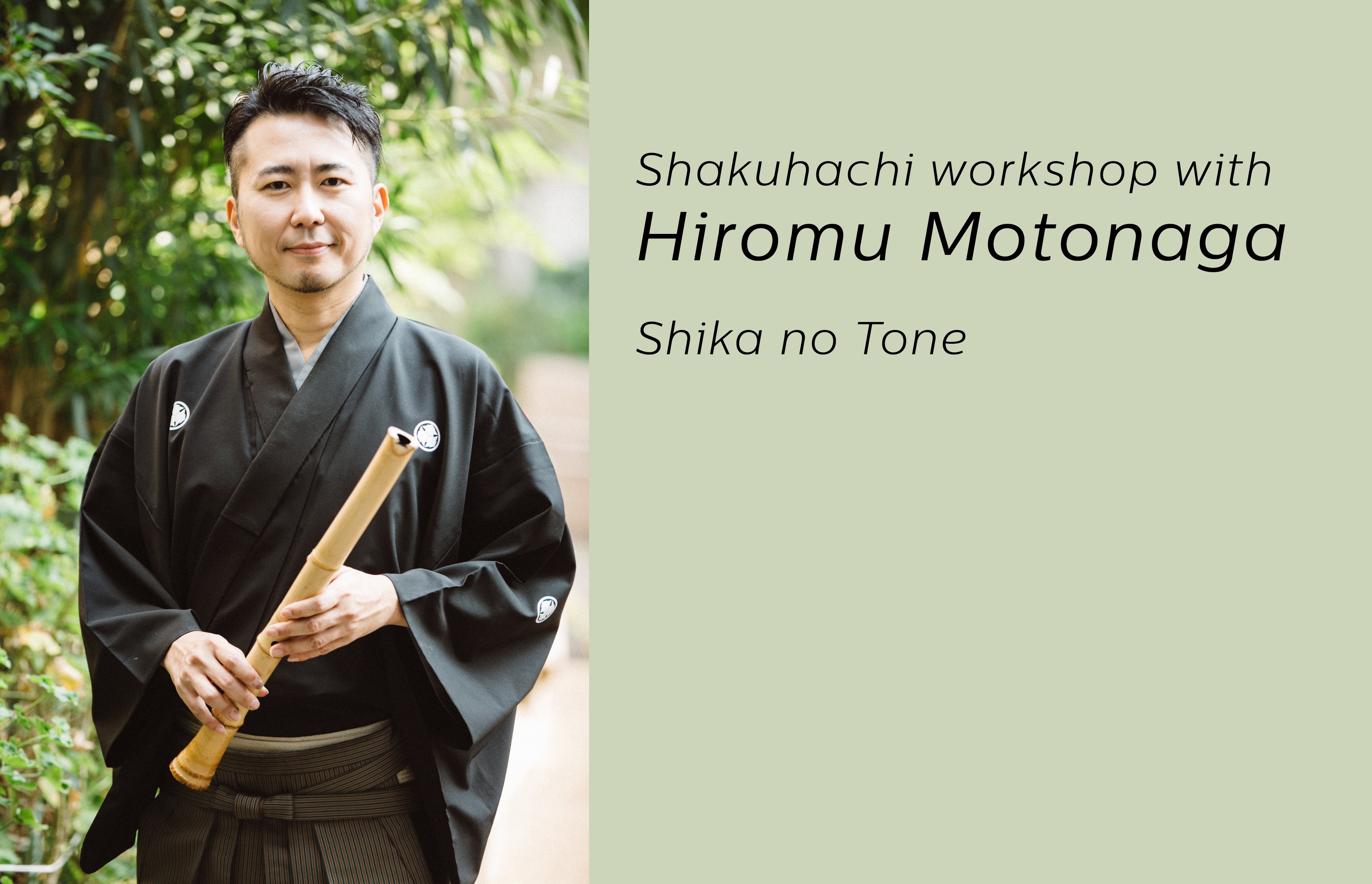 13. – 14. 4. 2019
Studio NEIRO, Holandská 48, Praha 10
Learn the spiritual piece Shika no Tone with one of Japan's leading players Hiromu Motonaga. Under his guidance you will discover its unique techniques and timbres. The workshop is suited for players from lower intermediate to upper intermediate levels
Shika no Tone is a classical honkyoku shared in many traditions of the spiritual repertoire of the shakuhachi. It is a unique duet that portrays calling of the deer, or, as one interpretation claims, cries of wandering souls. Hiromu Motonaga will use this piece as to teach special playing techniques that enhance tone colour, tuning and projection – using vocal chords while playing the flute.
Hiromu Motonaga is the current director of Pro Musica Nipponia, prestigious ensemble dedicated to development of Japanese Music. Motonaga uses his enormous musicality in a variety of genres from popular to traditional. He is also one of the few players playing the okraulo, hybrid instrument between traverse flute and the shakuhachi.
This workshop is open to five students only, ensuring intensive and personal engagement with both the teacher and the piece.
This workshop is conducted in English. Score materials will be available after purchase.
SUMMARY
Shakuhachi Workshop with Hiromu Motonaga (Shika no Tone)
13. – 14. 4. 2019
Studio NEIRO, Holandská 48, Praha 10
Capacity: 5 students (lower intermediate to upper intermediate)
3900 CZK regular fee (approx. 144 EUR)
3000 CZK ISFP Family* (approx. 110 EUR)
*ISFP Family is a member programme of the International Shakuhachi Festival Prague. Learn more here.
Register at info@neiro.org
Hiromu Motonaga
Although being raised out of Japan, Motonaga Hiromu (1974) became fascinated by Japanese culture. After graduating from Sophia University Foreign Language Department and the NHK Academy for Traditional Japanese Music, Motonaga started his musician's career. This renowned shakuhachi player performed at such events as the Expo 2008 in Spain, Sibiu International Art Festival in Romania, the World Shakuhachi Festival 2008 in Sydney, 2010 Expo in China and many others, visiting more than 30 countries around the world.
His shakuhachi style is based on Kinko-ryu classical music and Honkyoku-meditational music. Motonaga creates modern music using traditional sounds and trends and collaborates with artists of various genres. He has composed more than 20 works for Japanese traditional instruments.
Videos:
https://www.youtube.com/watch?v=Ohmly06Gyvc
https://www.youtube.com/watch?v=D45WHTcpjQ0
https://www.youtube.com/watch?v=AKBFwrAmYRo
Workshop Schedule
13. 04. 2019
9:45 Introduction
10:00 – 12:00 Hiromu Motonaga: Shika no Tone
13:00 – 15:00 Hiromu Motonaga: Shika no Tone
16:00 Playing together/Open mic
14. 04. 2019
9:45 Introduction
10:00 – 12:00 Hiromu Motonaga: Shika no Tone
13:00 – 15:00 Hiromu Motonaga: Shika no Tone